CLIP PUSHCHAIR
The CLIP Special needs Stroller is a compact, lightweight stroller.
Basic positioning accessories help accommodate minimal to moderate positioning.
Upholstery on the CLIP is washable for easy clean up.
The CLIP's compact folding design and lightweight aluminum frame is crash tested and
makes transporting simple.

The adjustable backrest can be reclined in three positions by two zippers on the
back of the backrest.

Stroller can be used as bus transit model by adding the Tie Down Transit Hooks and
Adjustable Vest Harness options.

4 sizes are available with a maximum weight capacity of 167 lbs. Several different positioning options available.


Features:

•Adjustable backrest in 3 positions (0 - 12°) for maximum comfort
•Detachable and height adjustable footrest
•Built-in armrests
•Legrest strap
•Two spring parking brake
•Upholstery is washable for easy clean up
•Compact folding aluminum frame with non-toxic epoxy finish
•Puncture proof solid tires

Options (every option is added extra charge over the basic price)

Side Trunk Support (#816)
Pelvic Positioning (#894)
Medial Thigh Support (Abductor) (#817)
Retractable Sun Canopy (#819)
Foot Straps (#827) -
Vest Harness (#853) -
Adjustable Headrest (#835)

Folded pushchair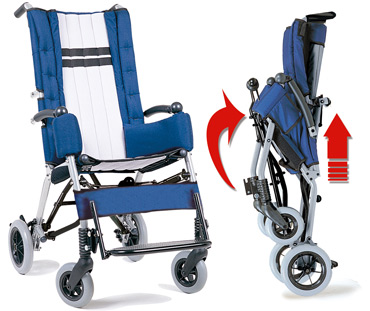 Should you need information about the encumbrance of the folded pushchair, please refer to our table in the section: "Technical specifications"
Available in 2 different colours
Adjustable backrest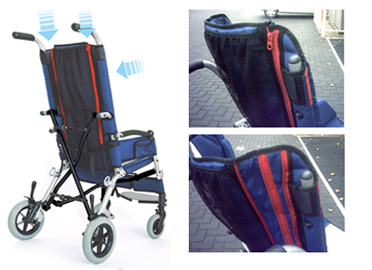 The backrest can be reclined in three positions thanks to two zippers, to be zipped and unzipped which are on the back of the backrest.
Upholstery in traspirant mesh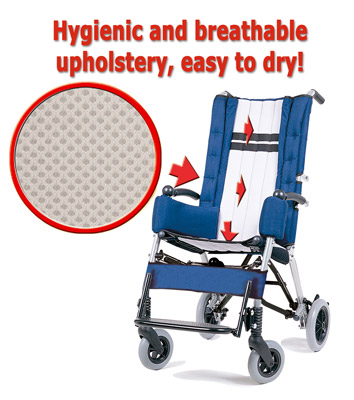 Breathable upholstery. It is particularly suggested on summer.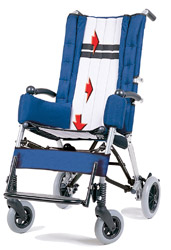 Technical specifications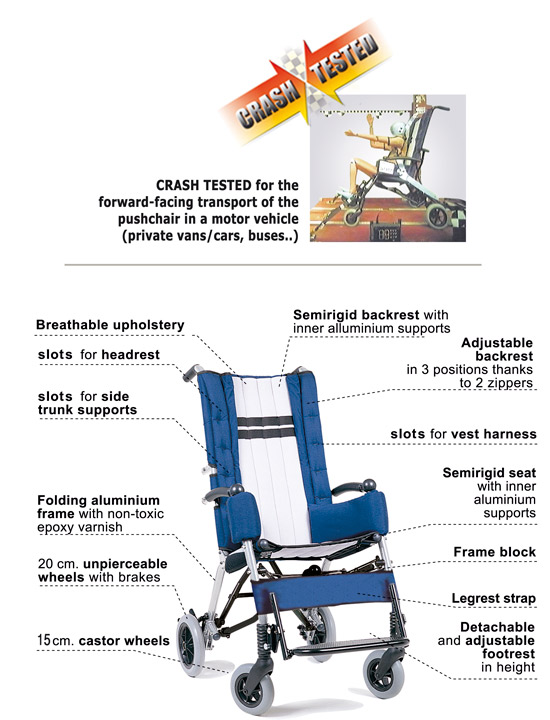 CLIP is light weighted (its weight is only Kg 11, 24.2 Lbs) and it can be easily folded.
CLIP is light and easy to push because its wheels are on ball bearings.
The two back wheels have spring brakes .
CLIP has an inclined seat to assure the child the maximun comfort.
Removable footrest thanks to a spring lock mechanism.
Dimensions
* Seat width is cm 45 if you remove the lateral paddings
DIMENSIONS
SIZE 1
SIZE 2
SIZE 3
SIZE 4
Seat depth
cm 25 (9.8 In.)
cm 30 (11.8 In.)
cm 35 (13.8 In.)
cm 38 (14.9 In.)
Seat width
cm 30 (11.8 In.)
cm 33 (13 In.)
cm 36 (14 In.)
cm 33 (12.9 In.)*
Backrest height
cm 55 (21.6 In.)
cm 59 (23.2 In.)
cm 64 (25 In.)
cm 70 (7.5 In.)
Backrest width
cm 40 (15.7 In.)
cm 40 (15.7 In.)
cm 40 (15.7 In.)
cm 45 (17.7 In.)
Backrest tilt
0° - 12°
0° - 12°
0° - 12°
0° - 10°
Seat tilt
18°
18°
18°
18°
Distance seat edge to footrest
cm 15/23 (6/9 In.)
cm 21/31 (8.2/12.2 In.)
cm 27/37 (10.6/14.5 In.)
cm 36/48 (14/18.9 In.)
Total width
cm 51 (20 In.)
cm 51 (20 In.)
cm 51 (20 In.)
cm 57 (22.4 In.)
Total lenght
cm 80 (31.5 In.)
cm 90 (35.4 In.)
cm 96 (37.8 In.)
cm 105 (41.3 In.)
Total height
cm 99 (39 In.)
cm 99 (39 In.)
cm 104 (41 In.)
cm 112 (44 In.)
Folded dimensions
cm110x30x32

(43.3x11.8x12.6 In.)

cm110x30x32

(43.3x11.8x12.6 In.)

cm115x32x35

(45x12.6x13.7 In.)

cm115x56x34

(45.2x22x13 In.)

Weight
kg 10,8 (Lbs 23.8)
kg 11 (Lbs 24.2)
kg 11,2 (Lbs 24.7)
kg 12,5 (Lbs 27.5)
Max. load
kg 30 (Lbs 66)
kg 35 (Lbs 77)
kg 40 (Lbs 88)
kg 76 (Lbs 167)