NOVUS PUSHCHAIR

The "NOVUS" pushchair stands out for the technological research that has gone into the project: adoption of lightweight materials such as aluminium, flexible use, ease of folding and transport, and high customizability thanks to the various options available. Like all ORMESA products, "NOVUS" has been developed with special attention to quality and design.
It is light thanks to its aluminium frame.
It has removable wheels, thanks to a spring mechanism.
It can be customised having many accessories available.
Features

folding aluminium frame with epoxy coating

two rear braked quick release wheels

front castors

adjustable angle folding footrest

seat adjustable in width and depth

rigid backrest adjustable in height and angle

padded water-resistant upholstery
Options (every option is added extra charge over the basic price)
827 FOOTSTRAPS 1set

853 VEST HARNESS 1


819 CANOPY 1 - (+ € 200.00)

863 ADJUSTABLE HEADRESTS 1 SET

817 ABDUCTION BELTS 1


824 TRAY 1 - (+ € 190.00)

834 ABDUCTION BLOCK 1

891 4 TIE DOWN HOOKS 1 SET

Technical specifications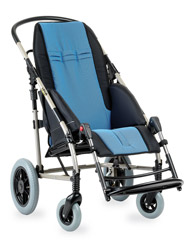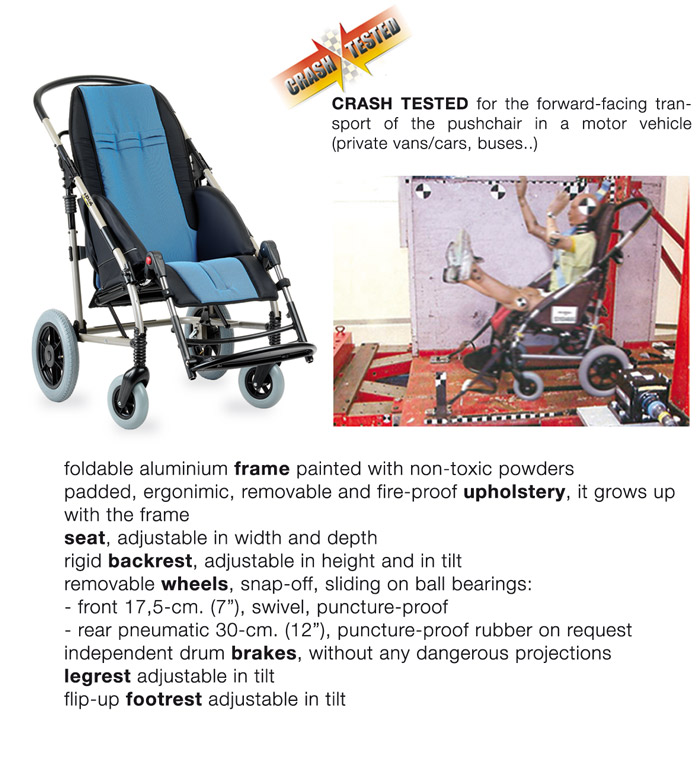 Folding frame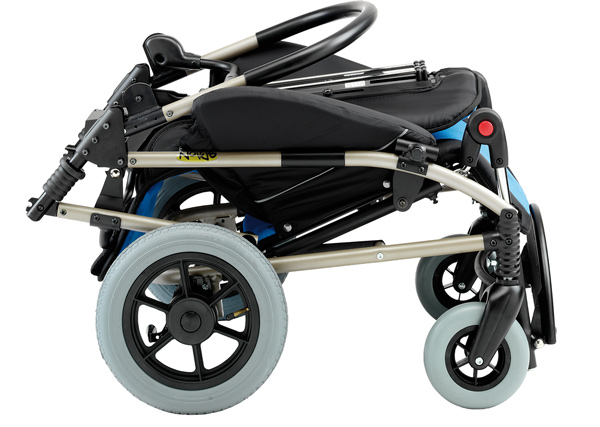 FOLDING FRAME in varnished aluminium with non toxic epoxy varnish.
Should you need information about the encumbrance of the folded pushchair, please refer to our table in the section: "Technical specifications"
Wheels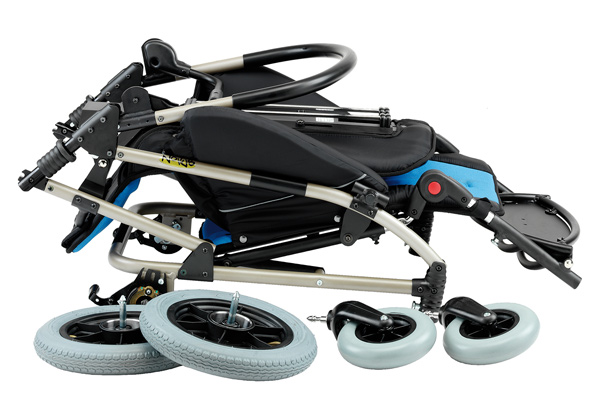 Extractable wheels with quick release mechanism
Dimensions
NOVUS pushchair passed CRASH TEST according to the ANSI RESNA WC/19
| | | | |
| --- | --- | --- | --- |
| Dimensions | Novus 2 | Novus 3 | Novus 4 |
| Seat depth | 30-36 cm (11.8-14 In.) | 35-41 cm (13.7-16 In.) | 39-45 cm (15.3-17.7 In.) |
| Seat width | 20-30 cm (7.8-11.8 In.) | 24-34 cm (9.4-13.4 In.) | 28-38 cm (11-15 In.) |
| Backrest height | 65-71 cm (25.6-28 In.) | 71-80 cm (28-31.5 In.) | 75-81 cm (29.5-31.8 In.) |
| Backrest width | 40 cm (15.7 In.) | 43 cm (17 In.) | 46 cm (18 In.) |
| Distance seat edge to footrest | 27-37 cm(10.6-14.5 In.) | 30-40 cm (11.8-15.7 In.) | 30-44 cm (11.8-17.3 In.) |
| Total width | 60 cm (23.6 In.) | 63 cm (24.8 In.) | 66 cm (26 In.) |
| Total height | 103 cm (40,5 In.) | 103 cm (40.5 In.) | 107 cm (42 In.) |
| Folded dimensions | 83x57 cm (32.6x22.4 In.) | 84x60 cm (33x23.6 In.) | 90x62 cm (35.4x24.4 In.) |
| Backrest tilt | + 20° | + 20° | + 20° |
| Total weight | 19,5 kg (41.8 Lbs.) | 20,9 kg (46 Lbs.) | 22,1 kg (48 Lbs.) |
| Weight of the aid without wheels | 15,9 kg (35 Lbs.) | 17,3 kg (38 Lbs.) | 18,5 kg (40.7 Lbs.) |
| Max load | 45 kg (99 Lbs.) | 55 kg (121 Lbs.) | 65 kg (143 Lbs.) |